High-priority target Matt McQuaid will visit Creighton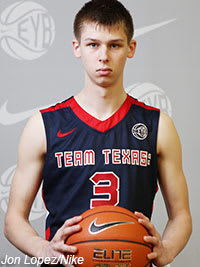 One of Creighton's top targets has scheduled a visit to the Hilltop - 2015 guard
Matt McQuaid
will visit Creighton on September 6.
Not many 2015 recruits have had a wilder summer than McQuaid. Ranked No. 87 in the Rivals 150, he committed to SMU in early May, but decided to open his recruitment back up after a promising showing at the LeBron James Skills Academy in early July. McQuaid turned even more heads in Chicago last weekend as his team won the Nike Global Challenge, and his recruiting process is ongoing.
"This weekend went very well," he said. "We had a lot of fun. We played against some of the best players from different countries and we won the whole tournament. It was a great experience."
In addition to Creighton and SMU, McQuaid has recently gotten a lot of attention from Michigan State, LSU, Texas and Indiana, and a decision is still a ways away for the 6-foot-5 sharp shooter.
"Right now there is no real leader as far as which school I'm going to choose," he said. "I'm going to take 3 or 4 visits and then make a decision."
McQuaid has taken unofficial visits to most of the schools that are interested in him, and he plans on making an official visit to Creighton the weekend of September 6. The CU staff certainly picked a good time for McQuaid to make an unofficial visit to campus.
"I haven't forgotten the atmosphere at the Creighton game I went to," he said. "It was Doug McDermott's last game at home and I really like that Creighton is a basketball school."
McQuaid also plans on taking an official visit to Michigan State the weekend of September 20.
"I like the tradition they have at Michigan State," he said. "Coach Izzo is a great guy with a lot of energy. I got to hang out with the players while I was there too, which was a lot of fun."
McQuaid also wants to get back to see Texas before he makes his decision.
"They've got some really good players at Texas. They need a shooter and I fit their system really well."
McQuaid is still working on figuring out which other schools he might visit. One thing is for sure, however - this marksman is a priority for Shooter U.