Creighton wins the MVC Title in OT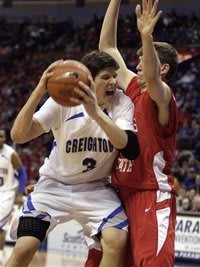 ST. LOUIS (AP) - Doug McDermott had 33 points and Antoine Young scored eight of his 14 in overtime as No. 25 Creighton survived an upset bid in the Missouri Valley Conference tournament final with an 83-79 victory over Illinois State on Sunday.
Grant Gibbs added a career-high 20 points for second-seeded Creighton (28-5), which won the conference tournament for the seventh time in 14 seasons and earned its first NCAA bid since 2007.
The Bluejays were 3-0 against fourth-seeded Illinois State (20-13), which beat top-seeded and 15th-ranked Wichita State in the semifinals, the first two wins by nine and 28 points.
Freshman Nic Moore had 20 points for Illinois State and drove the length of the court for a layup with 6.5 seconds to go in regulation that forced overtime. Young tried to duplicate that feat on the other end but missed with 2 seconds left and Gregory Echenique missed a tip-in at the buzzer.
Jackie Carmichael added 17 points and nine rebounds for Illinois State, which hasn't made the NCAA tournament since 1998. Tyler Brown had 16 points and John Ekey added 13.
McDermott, the conference player of the year, was potent inside and out, making 12 of 18 shots with three 3-pointers while exhausting an assortment of defenders. He broke the school's season scoring record set in 1968-69 in the first half and put Creighton on his back much of the second half, scoring 17 of the Bluejays' 19 points in one stretch.
The Bluejays led by nine points with 1:15 to go after Josh Jones' fastbreak dunk.
Coach Greg McDermott, Doug McDermott's father, became the first Valley coach to win the tournament at two schools. He won in 2004 at Northern Iowa.
Creighton won without much from Echenique, who was held to eight points and seven rebounds. Echenique had 20 points, nine rebounds and three blocks in 20 minutes in the semifinal win over Evansville.
Creighton was 3 for 12 from 3-point range in the first half, a day after starting 8 for 11 from long range while building a 19-point lead against Evansville. Illinois State took advantage of the misfires, closing the half on a 15-3 run capped by Tyler Brown's 3-pointer with 4.8 seconds to go that gave it the lead.
Creighton had one basket over the final 6:47 after McDermott's one-handed tip-in made it 27-16. Echenique was on the bench the final 3:11 after getting his second foul.
Creighton will depart St. Louis tonight at 9:30 pm on Southwest flight 1433, arriving in Omaha at 10:45 pm.