Creighton outlasts Nebraska at home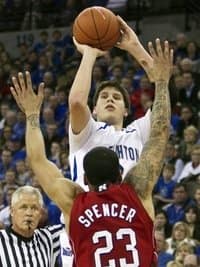 OMAHA, Neb. -- Doug McDermott had 24 points and 12 rebounds as the Creighton men's basketball team posted a 76-66 win over Nebraska on Sunday. The Bluejays, who now own 12 straight regular-season home wins against teams from the top-six BCS leagues since 1996-97, are 7-0 for the first time since the 2004-05 campaign.
Nebraska lost for the third time in four games and is now 4-3.
Creighton led the entire first half, but allowed a late 8-2 run by the Cornhuskers to see its lead dwindle to 32-29 at intermission. McDermott led CU with seven points and four rebounds at half, while NU was paced by 12 points on 4-for-4 shooting by Bo Spencer.
Nebraska was the aggressor to open the second half and put together a 9-0 run to claim a 42-37 lead with 14:00 to play. But Grant Gibbs teamed with McDermott for all of Creighton's points during a 17-3 run that turned in CU's favor for good.
Creighton held a narrow 46-45 lead with 9:14 left when things fell apart for Nebraska. Moments after Gibbs was fouled by Christopher Niemann, Husker forward Toney McCray was whistled for a technical foul. While officials viewed courtside monitors of the previous play, Nebraska coach Doc Sadler wandered past half-court and took a seat on the scorer's table next to Creighton's bench and Bluejay head coach Greg McDermott. Sadler was whistled for a technical foul himself.
McDermott made 3-of-4 foul shots before Gibbs made his two, and just like that Creighton's lead reached 51-45. Nebraska never got any closer the rest of the way.
McDermott finished with team-highs of 24 points and 12 rebounds while becoming the first Bluejay since Nate King in 1994 with three straight double-doubles. Gibbs had 11 points, six rebounds, three assists and three steals while playing 39 minutes. In addition, Nebraska native Antoine Young had 14 points and five assists while sinking 10-of-10 foul shots from the line. Creighton shot 51.0 percent for the game, including 5-of-10 from long-range, and also hit 19-of-22 free throws (86.4 percent). Creighton outrebounded the Huskers 31-28 on the day.
Nebraska was led by 29 points from Spencer, who also added five rebounds, three assists and three steals. McCray had 15 points while Jorge Brian Diaz had 10 points and a team-best seven rebounds. NU shot 42.9 percent for the game and made 14-of-17 foul shots (82.4 percent).
Creighton returns to action on Saturday at Saint Joseph's in an 11 am (Central) contest.