Creighton beats SDSU 85-83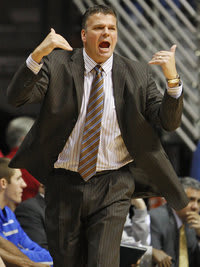 SAN DIEGO, Calif. -- Creighton overcame a 17-point first half deficit and a soldout crowd of 12,414 fans at Viejas Arena on Wednesday night to post an 85-83 victory over the defending Mountain West Conference champions.
Creighton improved to 6-0 on the year, while SDSU suffered a rare home defeat and fell to 7-2.
San Diego State scored the first six points of the game to put Creighton on its heels from the start, and the Aztecs would lead the rest of the half. The Jays trailed just 19-14 before SDSU exploded for a 12-0 run that took just 105 seconds.
Creighton tried to answer behind two treys and a traditional three-point play from Ethan Wragge, to get within 10 at 35-25. The Jays then ratcheted up the defense, holding SDSU to two field goals in the final five minutes of the half, and Doug McDermott scored the final eight points as CU closed with a 16-4 run to get within 39-35 at half.
McDermott led all players with 14 points and eight rebounds in the first half, while Wragge had nine points by intermission. SDSU was led by 13 points from Xavier Thames in the first half, while Chase Tapley added 10 points and two steals for the hosts.
Creighton came out strong to start the second, tying the score for the first time all night at 46-all on a Jahenns Manigat triple. Creighton even had a shot for the lead, but Austin Chatman's pull-up jumper missed short.
SDSU would once again attempt to break free and go ahead 54-46, only to see CU reel them in and tie the score at 62-all after a 5-0 run capped by a Young step-back jumper. Young then gave Creighton its first lead of the contest on a three-pointer with 6:34 left, 65-62.
With the score knotted at 69-all, Creighton would get a Wragge trifecta on its ensuing possesion, going ahead 72-69. The Jays two-point lead then doubled to 76-72 on a Wragge tip-in of a McDermott miss. Young made two foul shots with 1:59 left to put CU up six, only to have SDSU's Jamaal Franklin drain a deep trey to make it a three-point CU lead.
Creighton countered with a McDermott score inside before James Rahon's corner trey trimmed CU's lead to 80-78 with 1:16 left. Young wasn't done, as he drove to the hoop and converted an off-balance lay-up to put CU up 82-78 with 58.0 seconds left. Franklin then drilled another trey with a hand in his face with 48.6 seconds left to make it 82-81 CU.
The Jays called timeout with 28.8 seconds left and a one-point lead, with 16 seconds left on the shot clock. After the initial play broke down, Jahenns Manigat beat his defender off the dribble and fed a cutting Wragge for the hoop, putting CU up 84-81 with 16.2 seconds left.
SDSU drove the lane and Xavier Thames was fouled with 7.3 seconds left. He made both free throws, and SDSU burned its final timeout. Manigat would be fouled with 5.5 seconds left, making the first to put CU up 85-83. He missed his second shot but hustled down the rebound and called timeout with 2.3 ticks left. The Jays would then inbound the ball to McDermott, who immediately dished it away and time expired.
Creighton returns home on Sunday with a 4:05 pm game against Nebraska (4-2).
NOTES: This was the first of eight games in the 2011 Mountain West/Missouri Valley Conference Challenge Series ... Ethan Wragge's tip-in at the 5:34 mark of the first half was his first two-point field goal attempt of the season ... Creighton hadn't trailed at halftime this season before Wednesday ...Creighton has made at least one three-pointer in 580 straight games ... Doug McDermott became the first Bluejay with five straight games of 20 or more points since Rodney Buford in 1998.